About Me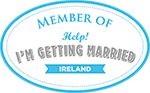 Professional Trained Wedding Celebrant and Public Speaker based in Kildare, Ireland. I am fully insured and accredited by the Irish Institute of Celebrants to perform bespoke wedding ceremonies. Who you choose to officiate your marriage or vow renewal is just as important as choosing your venue. It is my belief that your wedding celebrant should be in tune with your needs and style. I entered into this industry because I found there was a lack of variety and choices for weddings and events if you didn't want the standard church wedding or share a baptism with six babies at a time. Or with a priest that doesn't know me and has an agenda to preach. My only agenda is freedom of choice, Freedom to choose where you want to marry the person that you love, at a time of your choosing. A celebrant should facilitate a Wedding Service that reflects you and your loved ones and not some generic, conveyor belt system that is the same for thousands of people.
I feel my role is to help you create an event to remember, a personalized service to that speaks to your personality and create that atmosphere to really engage your friends, family, colleagues. Even if you don't know what that is yet, I will guide you through the process of really understanding what suits you and your guests. There are no do-overs, so I want to help you make the most of your wedding or event for that wow factor.
Having experience with hotels and venues nationwide and Internationally, I have plenty of industry knowledge and contacts to help make your event easier to navigate. I am Based in Naas, Kildare and within easy reach of Dublin & Wicklow but happy to travel further afield.
Have a unique or special request? Please get in touch at info@ceremoniesbysorcha.ie or +353 85 2000 600 or +353 45 54 00 45
See Ceremonies By Sorcha as featured on Irelands best Wedding resource Weddings Online
See my reviews on Weddings Online here